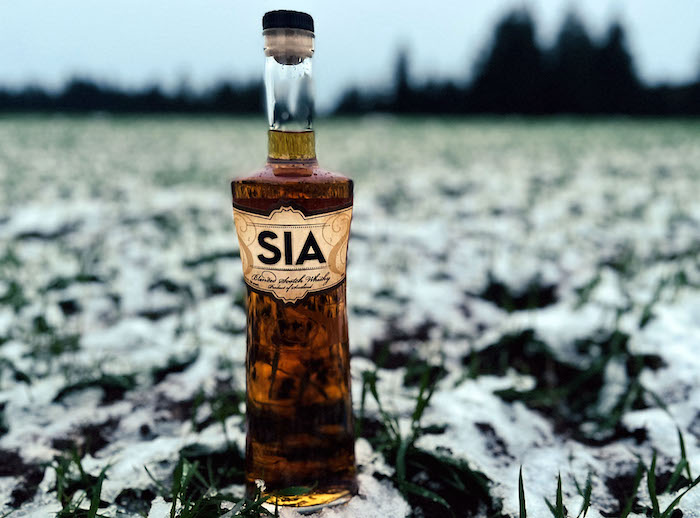 Editor's note: This whiskey was provided to us as a review sample by SIA. This in no case, by our editorial policies, influenced the final outcome of this review. It should also be noted that by clicking the purchase link at the bottom of this review, our site receives a small sponsorship payment which helps support, but not influence, our editorial and other costs.
In the early 2000s, Carin Luna-Ostaseski says most of her friends were in a phase where they were drinking things like Red Bull Vodka, or sweet-scented bottles of Bacardi Breezer and Smirnoff Ice. A graphic designer at the time, Luna-Ostaseski was the only one of her friends to be a Scottish demoness.
She says the 14-year-old Oban single malt was her favorite at the time, but she didn't live in the old country. So she traveled to Scotland for distillery tours, became a Certified Whiskey Ambassador, read every Scotch book she could find, and got a bartender's license.
Meanwhile, she was going through a tough breakup and had put money aside for couples counseling. When that didn't work out, she used the money to buy Scotch instead – eventually ending up with almost 300 bottles at her house.
"Maybe that was becoming a problem," she jokes as we recently talked about her whisky. Scotch tastings for his friends quickly turned into public tastings and special bar events. And then she really took things up a notch.
Her love of scotch led her to take on a second job to save start-up money, max out her credit cards and raise $45,000 in a Kickstarter campaign to set up as his own independent mixer. In 2014 SIA Blended Scotch was born – pronounced "SEE-a", which translates to "six" in Gaelic, for the half dozen whiskeys that were blended to make the initial batch.
Old Parr's Craig Wallace and Johnnie Walker's Jim Beveridge and Emma Walker are part of Diageo's Master Blenders brand blending team, which helped Luna-Ostaseski develop the flavor of SIA and has helped her stay consistent year after year since. They use both malted and unmalted whiskey, from Islay, Speyside, Highlands and Lowlands. ("But very little Islay," Luna-Ostaseski points out. One of the things she wants to do with SIA is convince people that not all scotches are smoky.)
SIA was only available in California and Nevada until 2021, when it added 15 more states to its distribution list. Luna-Ostaseski says she hopes to be available in all 50 states over the next few years, and then possibly internationally. "It would be fun to see it resell in the motherland" of Scotland, she concedes.
Ultimately, Luna-Ostaseski says she just wants to share her love of Scotch with people who might never have believed they would become Scotch drinkers.
"To me, Scotch is a sipping drink, not a party drink or a shot," she says. "You take it slow and it's quite an experience."
But, she says, "we want to challenge the convention that Scotch has to taste a certain way or you have to drink it a certain way or you have to look a certain way to have created a brand. We also exist to challenge convention.
Tasting NRemarks : SIA Blended Scotch
Vital Stats: Undisclosed mash bill, but it is a blend of Speyside, Highland, Lowland and Islay whiskies; Luna-Ostaseski says that about 40% of whiskey is malt whisky; 86 degrees/43% alcohol by volume; $40-$50 for a 750ml bottle.
Appearance: Light amber, with a tint of orange peel; legs flowing down the side of the glass. Well-designed hourglass bottle that stands out from most other bottles.
Nose: Perfume, honey and flowery potpourri. SIA prides itself on being an accessible scotch, even for people who haven't tried or don't like scotch. The nose ticks that box. It's soft and easygoing, if not particularly layered or complicated.
Palace: Nectarines, nail polish remover and lavender, followed by a lingering hint of lemon zest on the tongue. The relatively low alcohol content is evident as soon as you take a taste. It is a smooth, soft and simple material, with a very short finish. However, it is remarkably drinkable.