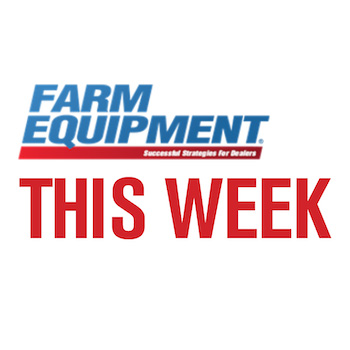 Farm equipment editors come across a variety of articles, social media posts, podcasts and videos that offer a unique look at various aspects of our formidable agricultural machinery industry. Here's our favorite content from the last week on the web. "The Best of the Web This Week" is brought to you by CLEANFIX.
---
---
Champlain Valley Equipment Reference Showroom

It's hard to believe it's been almost 10 years since our entire staff converged on Vermont for our 3rd edition dedicated to Dealership Minds to build an in-depth profile of our friend and advisory board member Brian Carpenter and his dealership Champlain Valley Equipment. CVE, also Dealer of the Year, has acquired, consolidated and modernized many dealer businesses since our last visit. Watch this quick video showcasing a post-industrial design shopping experience at CVE's Kubota store that just opened in Essex Junction, Vermont.
---
AXON and New Holland take top honors for dealer-led marketing at NAMA

AXON, title sponsor of this summer's Dealership Minds Summit, won first place in the dealer marketing category this week at the National Agri Marketing Assn. (NAMA) Convention in Kansas City. The tire distributor's direct mail flat piece won first place in the "Made to Dealers" category in the annual "Best of NAMA" competition. With the copy "Imagine having 100 years of tire and wheel knowledge in your back pocket the next time you sell a Tractor", the coin was created to communicate the company's rebranding from CFI Tire to AXON New Holland won first prize in the Dealer Brochures/Catalog category for its brochure (created by Maclay & Shoemaker Graphics) for conveying the impact of owning a New Holland dealership.
---
RDO Australia offers something for the whole family

RDO Australia has shared photos of an extra special delivery day for a family! dad Nathan Doyle received a new 6195M tractor while his son received a mini tractor! The Bundaberg store team made a special effort to please this little boy!
---
9th National Strip Till Conference Returns to Iowa

The National Strip-Tillage Conference returns to Iowa where it began 9 years ago. This short video shows the energy and enthusiasm that has us looking forward to this event. Most manufacturers in the strip-till market will be on site – a great place to connect with current and potential manufacturers for your AOR. Dealer JJ Nichting (with a state-of-the-art facility that just opened) has signed on as the official machine dealer sponsor, and Kinze is the site of a pre-event soil health workshop, which includes a private factory tour, museum visit and lunch. The 8-page program is now available!
---
Featured Product: 'Sales Enablement Tool for Dealers'

There are few new products offered by our editors to help sell machines, but we have one for you this week. Following a recent review of technologies appearing on precision ag dealer websites, we heard of a new "sales enablement tool" from Verge Ag. Developers are targeting machine dealers for their software that matches equipment size and functionality to each field operation and helps quantify the return on investment for additional technology. It's called "Launch Pad" and is covered in this 4 minute video:
---
Is there anything you want to share in "This week"? Email us.
More from this series
---
The best of the web this week is brought to you by CLEANFIX.
Proven in the most demanding agricultural conditions, CLEANFIX reversing fans provide the most efficient diesel engine cooling and radiator cleaning available. Multi-patented reversible fan technology keeps the machine cool as needed and, when needed, provides the strongest dust and debris evacuation, without interrupting or slowing down operations.
Click here to see the past »The best of the web this week" updates.