Who are CLX Custom Gaming PCs for?
CLX Custom Gaming PCs are ideal for those who want high-end hardware that has been assembled by experts
The CLX case is both beautiful and easy to open, which is ideal for those who want to upgrade their PC later
This computer is absolutely packed with all kinds of RGB lighting
Computers come in all shapes and sizes and can be equipped with a wide variety of hardware. It's easy to get overwhelmed by all the choices when buying a new computer. It doesn't even fit into the concept of building a PC, where users not only have to buy components individually, but make sure they all work together.
CLX, the custom IT experts, are here to help. I had the opportunity to use a custom CLX computer over the past month or so and not only does it perform superbly, but it's also incredibly quiet and beautiful to look at.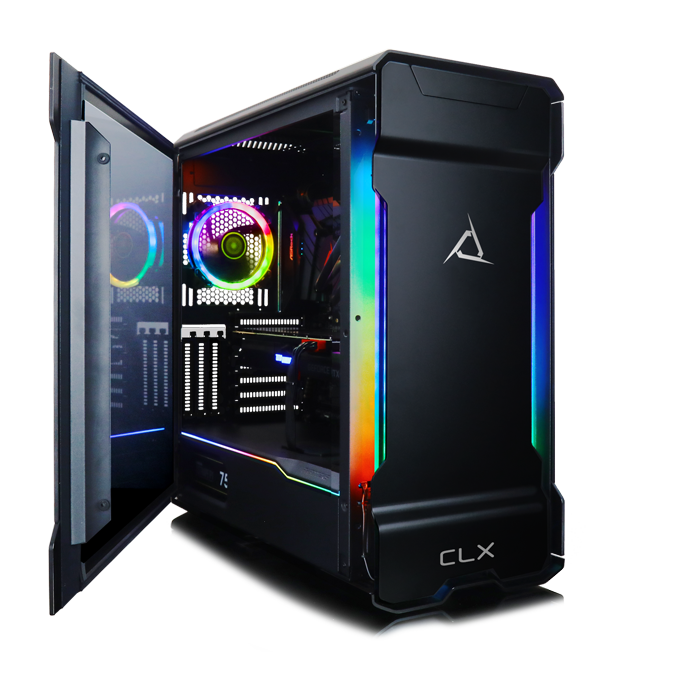 A little background
A little history lesson on myself: I'm not much of a PC guy. I never really was. In fact, I feel like I have weird problems with computers every time I use them. I know the best modern graphics cards, but I have absolutely no idea how to install them or any other component of the PC.
This makes me a perfect candidate for a company like CLX. As someone who has no in-depth knowledge of building a computer, turning to the experts makes the process of getting a high-end gaming PC easier. Those who know what they are talking about will have an easier time than me, which seems practically impossible.
CLX Ra
In addition to building a fully customized computer, CLX has a few standard models available. I was sent a CLX Ra chassis, complete with an RTX 3060, a Core i7 processor, a 500GB solid state primary drive, a 4TB secondary hard drive, and two 8GB DDR4 RAM sticks. The Ra also comes with Windows 10 pre-installed and ready to use. To say it completely destroys any other computer I've owned is an understatement.
While the CLX Ra is an amazing computer, there were some weird exclusions. The computer did not come with a built-in WiFi antenna or built-in Bluetooth support. It is true that computers perform better when plugged directly into a modem, but that would require running a cable throughout my apartment. Luckily I had a cheap USB WiFi antenna, but that's something to keep in mind.
the CLX Ra arrived in a massive crate, which looked cool, but made transporting the PC to my apartment a bit difficult. Once the computer was taken out of the checkout, things got a lot easier. Just plug in the power cable, plug in accessories like a monitor and keyboard, then press the button on top of the case.
Deadly muffler
What shocked me the most about the CLX Ra is how calm he is. It's a computer that's packed with pretty beefy hardware, and I can barely tell when it's on (aside from the many RGB lights, but we'll get to that later). There's both a liquid cooling system and seven fans built into the chassis, and even when I'm playing for several hours, I've never really heard the CLX Ra get much louder than it does at startup.
Easy to further customize
CLX computers are already custom built, but over time older hardware inevitably breaks down and upgraded hardware is released. CLX recognizes this and has made it easy to customize their computers with a large space in the chassis. The exterior of the case is also made of glass which is on a hinge. These glass panels can easily be opened for easy access to dust control components or to replace new hardware.
the CLX Ra even came with additional hardware to help fit more storage drives into the chassis. Considering the space remaining inside the case, it should be easy enough for a knowledgeable person to be able to install an additional drive without hassle.
Blinded by the light
Those who love RGB lighting with their PC hardware will love the look of CLX computers. The Ra I received has RGB lighting coming from just about everywhere, making the computer light up like a Christmas tree.
If ever the RGB becomes too important, the lighting is fully customizable. It can be set to specific colors or just be turned off. That said, while the computer is very dynamic, the lights are not very bright. Sitting under my desk with all the lights off in my office, the CLX Ra does not have much impact on the overall brightness of the room.
Performance
I won't go into too much depth on how the CLX Ra works, because it's based more on the graphics card and processor which is not the subject of this review. Needless to say, playing the CLX Ra is smooth as butter. Playing at 1260p and 75 fps (the maximum settings allowed by my monitor) was fine, and I didn't experience any drop in performance or other hardware issues.
I filled the 500GB SSD pretty quickly, but that's more because gaming these days is positively massive. Call of Duty War Zone alone occupied a good part of the space. Even the 4TB secondary drive won't last long for someone who is a Game Pass subscriber or has a large library of games.
Big price
A sad truth about PC gaming is that high-end PC hardware doesn't come cheap. Flagship graphics cards start at several hundred dollars and can easily run into the thousands. Add in the assembly that CLX includes, and the price of a custom CLX PC can easily start to increase.
It is possible to obtain a CLX computer for less than $ 600 right now, but options with higher end specs aren't available for less than $ 1,000. Doing the maximum with an RTX 3090 or equivalent graphics card will really jack the price up to $ 4000 or even more. High-end specs come with premium pricing.
The only great thing about getting a CLX computer instead of building one from parts, it's the peace of mind that a CLX computer will be built correctly without worrying about accidentally frying a part or failing to plug in a crucial component.
Final thoughts
CLX makes getting a high-end gaming PC an easy experience for experts and complete beginners. Although I don't have any experience building a PC, the professionals at CLX assembled one and shipped it out, leaving a monitor, keyboard, and mouse plugged in as the only requirement. to start playing.
the CLX Ra is as calm as it is beautiful. Playing and working on the CLX Ra is awesome, and I admire it frequently. Yes, this is an expensive computer, but that price clearly shows through with top-notch hardware that has been expertly put together to work together in harmony.