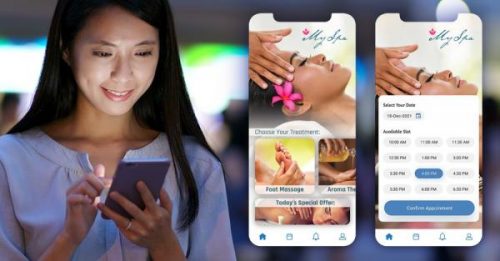 DefDevice is launching a new service, creating mobile apps for spas and other businesses. The agency has years of experience designing mobile apps and helping clients achieve their dreams.
Kuala Lumpur, Malaysia – February 20, 2022 —
Kuala Lumpur, MY (February 2022) – Digital Marketing Agency based in Malaysia DefDevice Sdn. Bhd. is pleased to announce the launch of its new service offering. The company now creates cutting-edge mobile apps for spa businesses, helping them put their business in the hands of their customers.
Spas are places of retreat, relaxation and comfort from the stresses of everyday life. However, running a spa requires continuous work and careful attention to detail on the business side. Appointments are out of place, utilities need to be used and monitored efficiently, and cleaning and maintenance work can be laborious. This is why it is important to take advantage of mobile technology in the management of a space. Nothing keeps appointments better than a mobile app to help a spa business run at maximum efficiency.
DefDevice has a passion for working with spa companies to create amazing mobile apps. They believe the best mobile apps are yet to come. The company also enjoys navigating the creation and design process with new app developers because it's their passion to help create amazing products.
The digital marketing agency has years of experience designing mobile apps and helping clients achieve their dreams. They also strive to make it easy to create mobile spa apps for their customers, with minimal time and stress.
According to DefDevice Founder, Dano Falk, "The new mobile era is ideal for startups and enterprises because it gives them new customer interface possibilities. Products and services can be called from the convenience of mobile devices, and "Our mobile apps are on the rise with new ways to make our lives more enjoyable. We encourage spa businesses to take advantage of this technology and create an app for their business to provide the best possible experience for your customers."
Dano Falk is an entrepreneur, online marketer, web designer and graphic designer who has made Malaysia his second home. He started doing things online in 1996 and has built many online businesses and agencies over the past two decades.
Today, DefDevice is a thriving agency with a relentless focus on client success, with client feedback driving innovation in their product offerings. While they're proud of their growth, they're also proud of the workplace they've become and the work environment they foster.
Interested spa companies who want to get their mobile app can contact DefDevice today for more details.
About DefDevice Sdn. Bhd.
DefDevice is a Malaysia-based digital marketing agency established by Dano Falk. The company specializes in personalized marketing services that best meet their clients' existing business needs and prepare them for optimal future growth.
To learn more about DefDevice and its services, contact Dano Falk at [email protected] Visit their official website at https://www.defdevice.com how to request a demo.
Contact information:
Name: Dano Falk
E-mail: Send an email
Organization: DefDevice
Address: 4 Jalan Medang Kapas, Kuala Lumpur, Wilayah Persekutuan Kuala Lumpur 59100, Malaysia
Website: https://defdevice.com
Build ID: 89064649
COMTEX_402757943/2773/2022-02-20T12:00:33