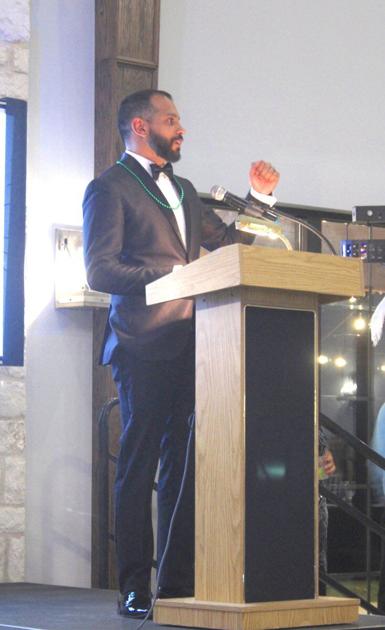 Community members gathered on Friday October 29 for the annual Tahlequah Area Chamber of Commerce banquet.
The Chamber Speakeasy celebration took place at the Legacy at MK Ranch and attendees were encouraged to dress up for the 20's themed party.
TACC President Jim Berry opened the evening by welcoming all who arrived. TACC President and CEO Nathan Reed paid tribute to all the sponsors before dinner was served by Table 5 Restaurant & Catering.
The Hotsy-Totsy Business Awards began after dinner with Jami Murphy as emcee.
ALL Designs won the 2020-2021 Small Business of the Year award and Amanda Lamberson accepted the award. Lamberson said she had been in business for four years and thanked them for the award.
Bilal Chaudhry accepted the Mid-Size Business of the Year award on behalf of X-Press Stop of Tahlequah. Chaudhry thanked Lamberson, who is their graphic designer, and the viewers, including Dower and Sara Combs.
"I want everyone to know that maybe I am the one talking and doing all the marketing for X-Press Stop, but I think everyone knows that the real spirit of X-Press Stop is someone that I call "Boujee". It is my father and someone you know under the name of Moses. It is he who pushed me to come here and it is he for whom this prize is awarded ", Chaudhry said.
Northeastern Health System CEO Brian Woodliff accepted the award on behalf of the hospital for winning the Large Company of the Year award.
"No one could prepare for what we were facing [during the pandemic], and it was an extremely difficult situation, "said Woodliff. "One of the first patients who passed [away], I wanted to pay tribute to him by telling you a little about his story.
The man visited people in nursing homes and hospitals as the virus spread rapidly.
"We apologized a lot when we heard about this COVID and his disappearance, and we apologize and try to take care of him, and he inspired us in a big way," Woodliff said.
The man said he was serving in the best way he knew how to do it, and Woodliff said those words changed the way frontline NHS workers viewed the work they did.
Police Chief Nate King received the Hero of the Year award for his efforts to tackle homelessness and those in need during the historic winter storm in February. King announced he would open the city jail as a temporary shelter for anyone to come and go as temperatures drop.
TPD provided shelter, food and basic necessities to people in need. King asked for volunteers to help watch the shelter. Just before the storm hit, King announced that the community had brought enough coats, blankets, hats and gloves to give to officers for distribution on patrols.
"The people who are here tonight, the influences from our community to be the name as well as here tonight is a lesson in humility. There are many other people who deserve this award more than me. So many people who work so hard to protect you every day and thank you for this award, "King said.
Grant and Kalan Lloyd received the Entrepreneur of the Year award after purchasing and renovating the old Teague building and named it "The Foundry on Shawnee".
Kalan was not a fan of the idea of ​​buying the building until Grant convinced her otherwise.
"Grant, who is not from here [and] who is a city boy, he saw what the potential was for that, "she said. "I think Tahlequah's testimony is that a city dweller like Grant can come and see the potential and what can be based on what he's used here."
Grant called Tahlequah a special place with potential and called on people to participate and be part of the growing potential of the community.
Community Champion of the Year Realtor Suzanne Myers said she appreciates what she's accomplished and what she's earned.
"There are probably several of you, if not more, in the room who deserve this honor," Myers said. "Receiving recognition for an honor like a community champion is amazing. When you look at where we live it's easy to see how things are going.
Myers said part of his role as a professional real estate agent is to educate potential residents about the positive aspects of the community.
"The dreams and efforts of those I mentioned tonight make this part of Tahlequah's introduction so easy," she said.
Jennifer Yerton of Farmers Insurance was named Volunteer of the Year for her role on numerous committees within TACC and beyond. She thanked her fellow House Ambassadors and gave a special shout to her mother, who was in the audience.
The Tru Hotel Holiday Inn received the Excellence in Tourism award this year, and Traci Huggins told the crowd that she loved what she did on a daily basis.
The Boys and Girls Club of Tahlequah was honored for this year's non-profit organization of the year.
Berry touched on the basis of a year that he described as unprecedented and what it has been like for everyone.
"What's the silver lining, what's the brighter side?" One is innovation at an all time high. We have found new ways to do the same job, "he said. "Second, collaboration – absolutely together we can do more. "
Berry explained how Reed's position came about and how that position changed for the good.
"I just want to say that Tahlequah is positioned for big growth and big change. Some residents are not happy with both, saying, "If you want to live in a bigger city, then you should move. I love Tahlequah the way he is, "Berry said.
Berry reminded everyone that change will happen and that there will be a role for everyone when that time comes.
Reed has been in his position for a year and he understands why Tahlequah is becoming the community that it is.
"Community and business leaders like the ones we celebrated here tonight have a passion for this community and want nothing more than to see continuous improvement. Tahlequah's bright future will only continue to be brighter, "said Reed.