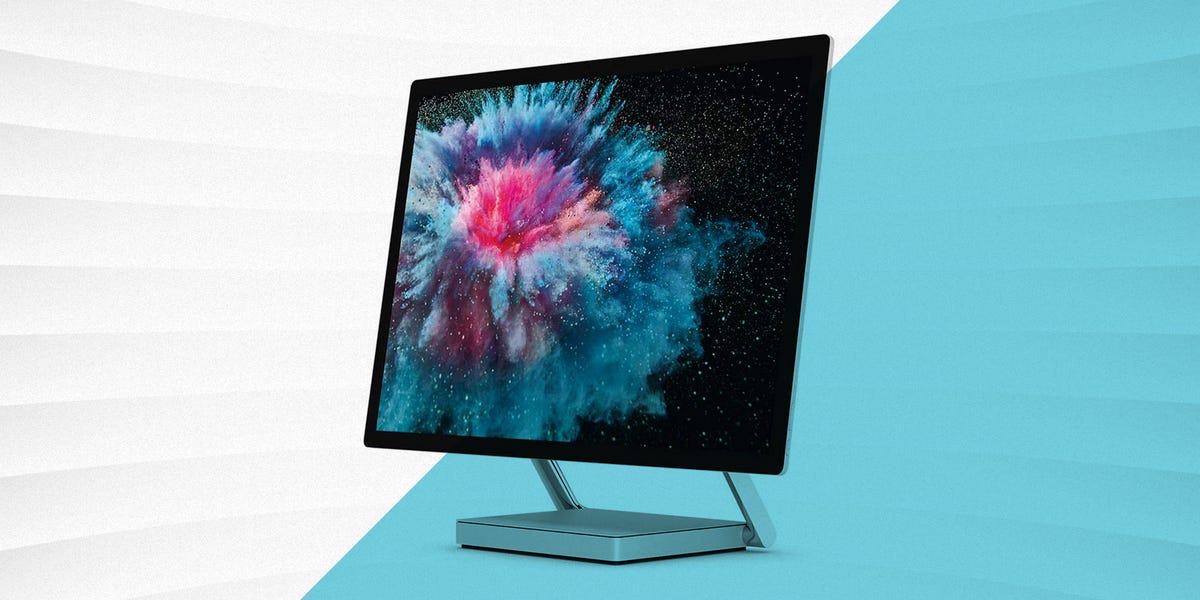 Personal, courtesy of Microsoft
Laptops and smartphones are all the rage these days, but the right desktop can free you from tiny screens and slow processors. Desktop computers are also the best choice for gaming, and most will allow you to customize or add components at will.
Specifications to consider
There is a dizzying array of options when it comes to desktop computers. But don't let that overwhelm you. If all you're doing is browsing the web, watching movies, and creating documents, any computer on this list should be working fine. Keep in mind that not all desktop computers come with a monitor. If you're buying a display separately, look for one that has at least Full HD resolution. A 4K screen will provide an even sharper picture.
First, decide if you want a computer that is running the Mac or Windows operating system. There is a heated debate between the Mac and Windows camps as to which is best, but for most people who want to do everyday computer tasks like browsing the web, processing text, and watching movies, one or more. the other operating system does the job.
Related: The Best Monitors For More Screen Space | 7 great gaming monitors
The exception to this rule is if you are looking to use your desktop for gaming. While there are hundreds of games designed for Mac OS, the vast majority of serious gamers prefer Windows. Most games are released for Windows first, and often they are not available for Mac computers.
For a Windows 10 desktop, expect to spend around $ 1,000 for a machine that can handle lightweight games as well as photo and video editing. You should look for an Nvidia GTX / RTX or AMD Radeon RX graphics card and at least 16 GB of RAM. This is enough to run multiple programs at once, so you can type Microsoft Word while having a web browser with multiple tabs open. For even smoother operation, invest in more RAM. Massive hard drives are relatively inexpensive these days, but are easy to fill up if you store games or videos. Look for at least 512 GB of storage, unless you plan to keep a lot of your data in the cloud.
Mac desktops offer fewer options but can be a solid choice due to Apple's well-deserved reputation for top-notch hardware and reliable software. The Mac Mini or iMac M1 should offer plenty of power to tackle most tasks, unless you're a serious gamer.
How we selected
I am a technical journalist who has owned desktops for decades. I recently spent a dozen hours researching and reading reviews of the latest desktops. I am currently using an iMac M1 (and wrote this review on it). As a freelance writer I have written for numerous publications including The New York Times and Atlantic. I looked at processor speeds, RAM, graphics cards, displays, storage, and pricing to sort out the best available desktops.
Advertising – Continue Reading Below
Best overall
Apple iMac M1 (2021)
Apple
amazon.com
$ 1,299.99
Display: 24 in. 4.5K | RAM: 8 GB | Processor: Apple M1 | Hard disk: 256 GB SSD
The iMac M1 is my first choice and the computer I use every day. It has a fantastic clear and bright monitor that's large enough to easily display large documents, without being too awkward to fit on a desk. The M1 chip is fast enough to keep Mac OS and most programs compressed with the click of a mouse. And the iMac's new design is sleek enough to stay on display in your living room. The only thing I would trade in is the awful, tiny keyboard that Apple includes with this model.
Excellent display quality
Fast processing
Best value
HP Pavilion TP01-1140 Desktop PC
Display: Not included | RAM: 12 GB | Processor: AMD Ryzen 5 | Hard disk: 512 GB
This pavilion is a basic machine that also adds decent sound and graphics. 5.1 surround sound will make movies look great, and the AMD Ryzen 5 4600G processor and Radeon graphics are enough to play some but not all PC games. The brushed aluminum look of the case is harmless and offers a plethora of ports, including HDMI.
Decent sound and graphics
Affordable
Not better for serious gamers
HP
amazon.com
$ 2,099.99
$ 1,849.99 (12% off)
Display: 31.5-inch 4K Ultra HD | RAM: 16 GB | Processor: Intel Core i7 | Hard disk: 1TB SSD
The Envy 32 is a clean-looking all-in-one PC with plenty of angles and a speaker visible below the screen. HP is marketing this model to creators who do a lot of photo and video editing, and the Intel Core i7-9700 should be up to the task. The built-in 4K monitor stands out with an excellent contrast ratio of 6000: 1 and peak brightness of 600 nits. The large loudspeaker is put to good use with front-firing tweeters and subwoofer speakers tuned by renowned audio maker Bang & Olufsen. You can even stream music from your phone to your PC speakers with the PC turned off.
Integrated design saves space
Excellent sound quality
Tower only
Apple Mac Mini M1 (2020)
Display: Not included | RAM: 8 GB | Processor: Apple M1 | Hard disk: 256 GB SSD
If the iMac is your all-in-one solution, Apple fans who want options can rejoice in the newly invigorated Mac Mini that sports the same M1 processor. The little Mini can easily connect to your choice of accessories. If you've ever invested in solid hardware, like an expensive monitor, it makes sense to consider the Mini. It is also easy to carry when traveling. It offers plenty of connection options including USB, HDMI, and gigabit Ethernet.
Good option if you already have a monitor you like
Fast processing
Keyboard (and mouse) not included
Great for games
HP Omen 25L
Display: Not included | RAM: 16 GB | Processor: Intel Core i7 | Hard disk: 512 GB SSD
Gamers who want a platform that can handle most titles at acceptable frame rates should be happy with the Omen 25L. The NVIDIAGeForce GTX 1660T graphics card will power games like Shadow of the Tomb Raider with high dynamic range (HDR) and high ray tracing and all other settings at an average of 76 fps. This desktop supports dual monitors and, like most gaming PCs, is designed to be customizable for future upgrades.
Quality graphics card
Supports two monitors
Competitors offer faster frame rates
The most affordable
Acer TC-895-UA92
Display: Not included | RAM: 12 GB | Processor: Intel Core i5 | Hard disk: 512 GB
This Acer model gets the job done at a reasonable price. The 10th Gen Intel Core i5-10400 6-core processor is fast enough to run the latest version of Windows 10 quickly and tackles tasks like word processing and working with spreadsheets. However, do not try to run modern PC games on this machine. The sharp-edged black case probably won't win any design awards, but it won't make you wince.
Low prices
Comes with keyboard and mouse
The most beautiful
Acer Aspire C27
Acer
amazon.com
$ 1,599.00
Display: 27 inch Full HD | RAM: 16 GB | Processor: Quad-core Intel | Hard disk: 1TB SSD
The C27 is perhaps the prettiest PC on the market with a sleek all-in-one design framed by a silver screen. Acer claims it is the thinnest all-in-one ever at 0.3 inches. The screen is a bit larger than Apple's new 24-inch iMac, and the sound quality is exceptional with dual-triggered surround stereo speakers. It's not designed for gaming, but the quad-core processor is more than fast enough for light office tasks and watching movies. A nice addition is the 1TB SSD drive which is large enough to store videos and fast enough to keep the system running smoothly.
Sleek all-in-one design
Very thin screen
Professional level display
Microsoft Surface Studio 2
Microsoft
amazon.com
$ 3,800.00
Display: 28 inch touchscreen | RAM: 32 GB | Processor: Intel Core i7 | Hard disk: 1TB SSD
The Surface Studio 2 is aimed at graphic design professionals, but it packs tons of features that are handy for anyone with the cash for the hefty price tag. It is centered around a 28-inch touchscreen with 13.5 million pixels that are intended to more accurately represent actual colors than the competition. The tilting screen allows users to lower the screen almost flat and read or annotate documents with the stylus while standing.
Premium display quality
Touchscreen lets you draw or take notes quickly
This content is created and maintained by a third party, and imported to this page to help users provide their email addresses. You may be able to find more information about this and other similar content on piano.io
Advertising – Continue Reading Below